© 2018 Into The Light - Polar Bear Painting
6" x 12" Framed Original Acrylic Painting on Masonite is Available.
Limited Edition Giclée Canvas Print is Available Below.




Enrich Your Life with the Beauty & Significance of Animals.
This site represents the original artwork of Canadian Wildlife Artist Michael Pape and is protected by Canadian and International copyright laws.
© Copyright 2019 The Art of Michael Pape Inc. legally owns and reserves all rights to its intellectual property in its works.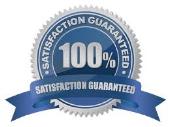 About Michael Pape Giclée Limited Edition Prints
Giclée (Gee-Clay)
Giclée is a state of the art digital technology that has made it possible to create a fine art print that is extremely difficult to distinguish from the original painting or drawing. Giclées are available on archival acid free watercolour paper and or canvas. Michael Pape Giclées use pigment longevity inks and have a lifetime warranty. Each limited edition giclée is numbered and hand-signed by the artist. Read More About What A Glicee Is.
Giclée - Regular Print Edition is a regular signed and numbered limited edition print, based off the artist proof.
Giclée - Artist Proof Print Edition is a signed and numbered limited edition print. An Artist Proof is the process of the artist manually matching the original painting colour to the limited edition giclée print colour. For example the pupil of an animal's eye may be slightly darker on one Artist Proof than another. Each Artist Proof is slightly different in colour / different in color. An original if you will. Many artists charge a 20% premium because of this. Artist Proof Print Editions are usually limited to 10% (20 prints) of the Regular Print Edition (200 prints) for example. They are the most sought after limited edition by international art collectors.
Giclée - Conservation / Publisher Proof Print Edition are what charities offer for Fundraising.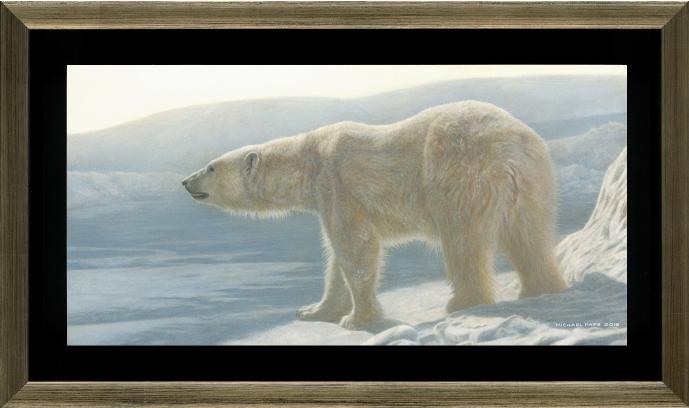 I created this painting of a Polar Bear as if he is on a stage and all the world is his audience. He has kept his human audience spellbound for countless years due to his power, majesty, as well as vulnerability. Polar Bears need ice to hunt seals (their main food source) and with longer delays for ice to form due to climate change, many Polar Bears are going without nourishment for longer and longer periods. I want the viewer of this painting to feel a sense of hope, contribution and empowerment to the future of this icon of the far North, stepping from the dark and into the light.
It is the innate intelligence, emotion and sensitivity in all animals that I inspire to recreate in my paintings. I have personally met all the animals in my paintings. I strive to collaborate with you, through my paintings, in a greater mission, to be a voice for animals and the natural environment in which they live. – Michael Pape
Original Acrylic Painting
Image size: 6" x 12" (inches)
Giclée Canvas Edition
Image size: 6" x 12" (inches)
Edition Size: 200 Signed & Numbered
20 Artist Proofs
20 Conservation Proofs
20 Publisher Proofs
Original acrylic painting and canvas giclée limited edition print come framed in a 2" deep premium wood floater frame, with no glass.
Unframed, unstretched giclée option will be shipped to you in a
sturdy cardboard tube.
Framed Giclée Canvas &
Original Acrylic Painting Starting at:
Into The Light - Polar Bear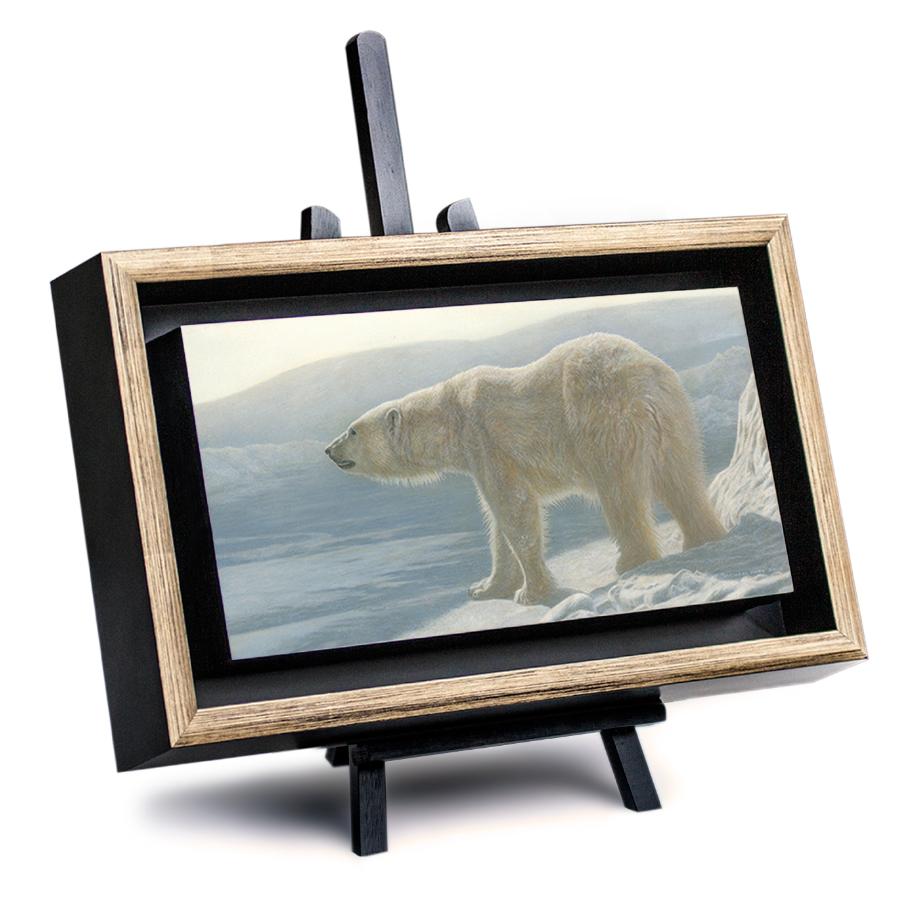 POLAR BEAR PAINTING For Sale. Original Acrylic on Masonite.
"Into The Light" – This Polar Bear Art, is the perfect size limited edition print for smaller spaces where wall space is limited. For example, the smaller framed prints of this large male Polar Bear can look great on a shelf, end table, desk, and or be displayed on an easel, in a home as well as in an office or other commercial setting. This exclusive Michael Pape Polar Bear original acrylic painting is FOR SALE (as are other exclusive original wildlife paintings: e.g.: Strength & Wisdom - Grey Wolves. Polar Bear Art canvas giclée limited edition prints are also for sale. Each Polar Bear canvas giclée limited edition print comes framed with 2" deep premium wood floater frame, with no glass, as above.