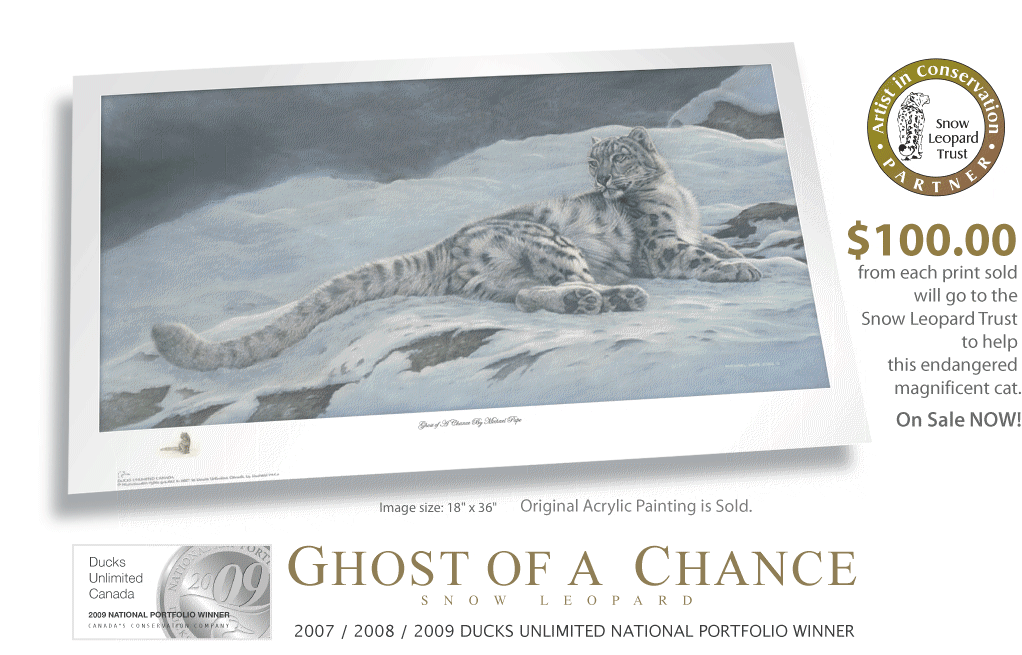 Native to the Central Asian mountains, the majestic and ghostly snow leopard is a rare sight. With about only 4,000 - 6,000 of these animals left in the wild they are an endangered species.
Snow leopards use their long tails for balance and as blankets to cover sensitive body parts against the severe mountain chill.
They are hunted and poached for their beautiful, warm fur and for their organs, which are used in traditional Chinese medicine. Without more education and stricter laws to protect them, these beautiful, magnificent cats only have a Ghost of a Chance to survive.
Michael Pape won 2009 Ducks Unlimited's Canadian National Portfolio contest with his painting of a Snow Leopard titled "Ghost of a Chance". 100 Ducks Unlimited Artist Proofs, are on sale now. These are the only Artist Proofs available in the Ducks Unlimited program of Ghost of a Chance and are only available from this, The Art of Michael Pape web site.
There were 2009 signed and numbered limited edition lithograph prints available and 100 Artist proofs available in the Ducks Unlimited program.

Michael Pape, with your help is committed to helping the endangered Snow Leopard, through the Snow Leopard Trust.
$100.00 from each "Ghost of a Chance" Ducks Unlimited Artist Proof Print sold will go to The Snow Leopard Trust.
Non glare glass is included with every framed Michael Pape print at no extra cost. Making your experience even better.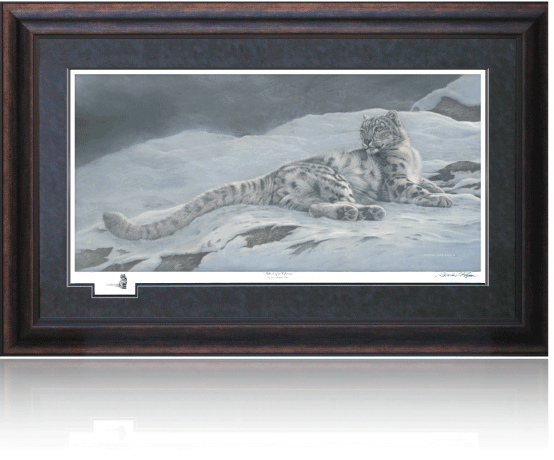 Framed Ghost of a Chance Ducks Unlimited Artist Proof- Acid Free Suede Mats, Non Glare Glass.


Giclée Canvas Edition
Image size: 18" x 36" (inches)
Edition Size: 200 Signed & Numbered
20 Artist Proofs
20 Conservation Proofs
20 Publisher Proofs
This canvas giclée limited edition print comes framed with no glass.
Looks very similar to Original Painting.
Frame style may vary upon availability. But guarantee it will look awesome!
Unframed, unstretched option will be shipped to you in a
sturdy cardboard tube.
Framed Giclée Canvas
Starting at: