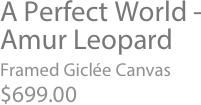 A Perfect Word - Amur Leopard 2006 ©
by Michael Pape was reproduced from an original acrylic painting on Masonite board. This painting has been reproduced in giclée form and printed at 1440 dots per inch directly onto archival acid-free, rich in texture, Canvas with pigmented inks and varnished with a UV giclée varnish. The print above is framed exactly like the original painting. This canvas showed in excess of 130 years before any image deterioration could be perceived. The results speak for themselves.
Only the highest quality stocks and inks have been used to create this print.