Enrich Your Life with the Beauty & Significance of Animals.
This site represents the original artwork of Canadian Wildlife Artist Michael Pape and is protected by Canadian and International copyright laws.
© Copyright 2019 The Art of Michael Pape Inc. legally owns and reserves all rights to its intellectual property in its works.
© 2017 Dear Innocence
White-Tailed Deer - Fawn
16" x 20" Original Acrylic Painting on Canvas is Sold.
Limited Edition Giclée Print Available Below.
A collector and dear friend discovered this fawn that was less than an hour old and about the size of a football in a field in Saskatchewan, Canada. Captivated by this scene he asked me if I would like to paint it. As an artist I thought it would be an interesting piece because of the abstract and protecting qualities of the grasses guarding the innocence of the fawn. This is a very complex painting with many tones and values. The complexity of the grasses are challenging to execute. The satisfaction of creating a realistic painting with depth and feel makes the effort worth it in the end.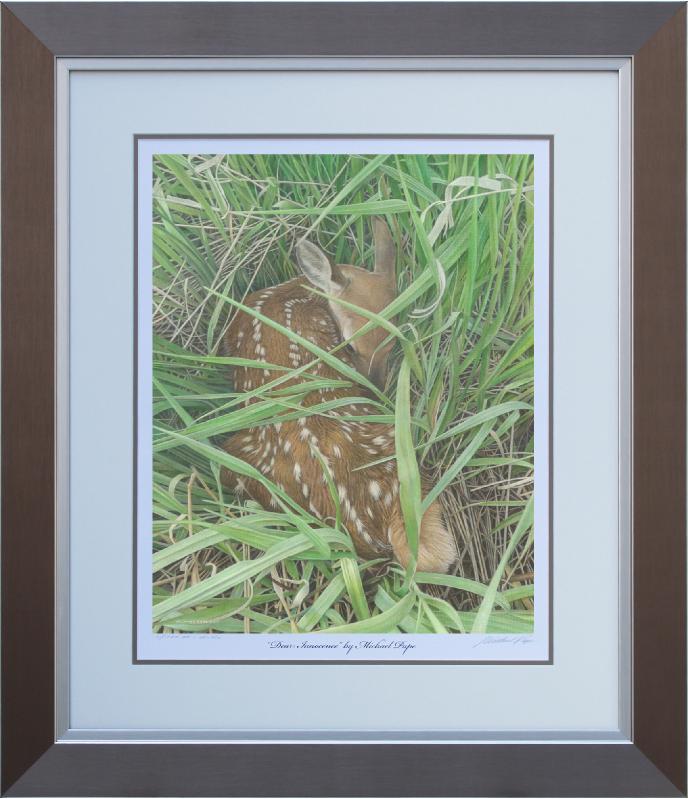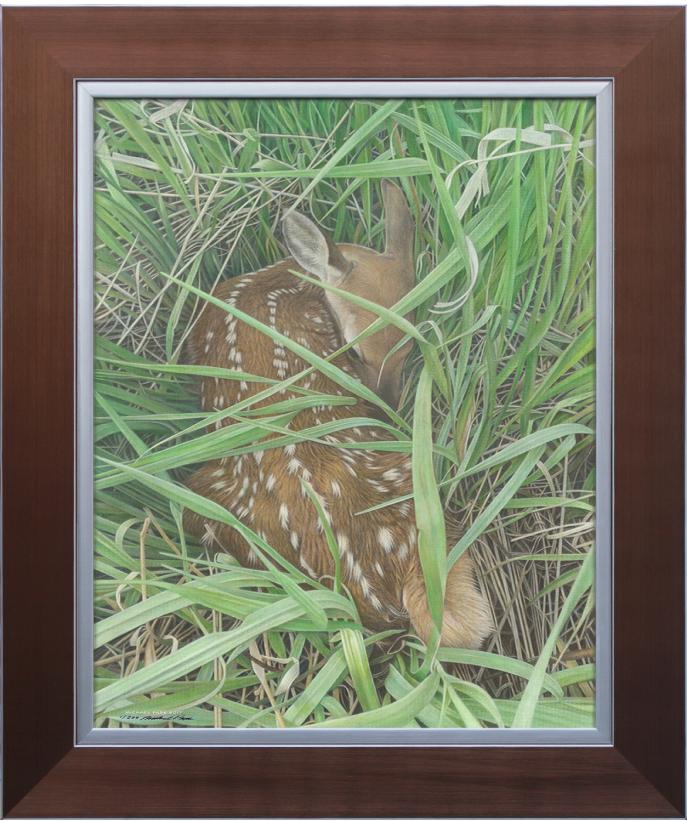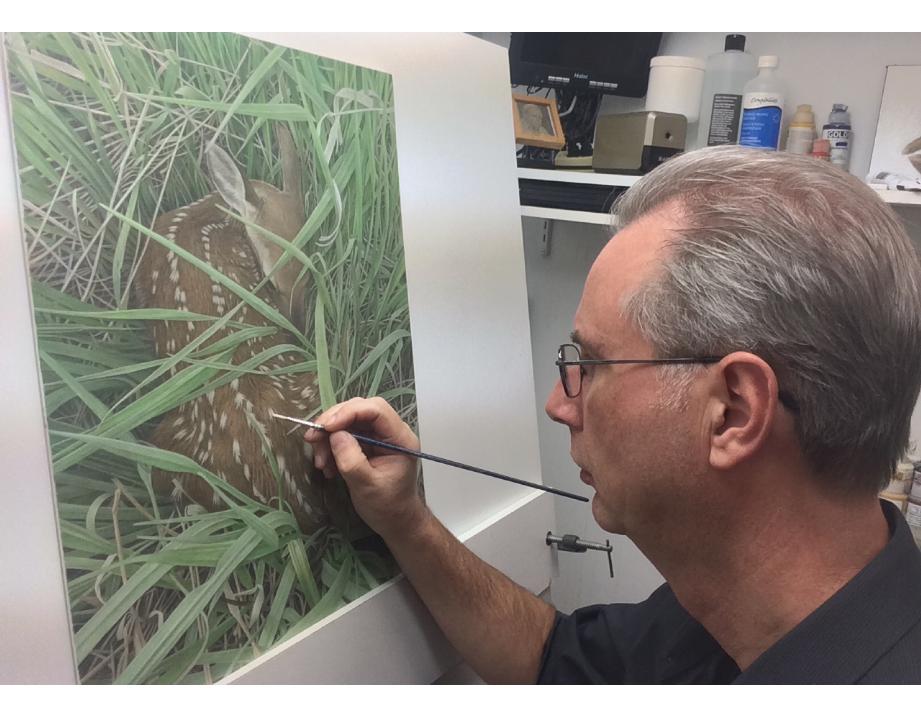 Giclée Canvas Edition
Image size: 16" x 20" (inches)
Edition Size: 200 Signed & Numbered
20 Artist Proofs
20 Conservation Proofs
20 Publisher Proofs
This canvas giclée limited edition print comes framed with no glass.
Looks very similar to Original Painting.
Frame style may vary upon availability. But guarantee it will look awesome!
Unframed, unstretched option will be shipped to you in a
sturdy cardboard tube.
Framed Giclée Canvas
Starting at: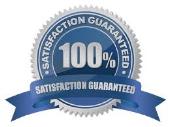 About Michael Pape Giclée Limited Edition Prints
Giclée (Gee-Clay)
Giclée is a state of the art digital technology that has made it possible to create a fine art print that is extremely difficult to distinguish from the original painting or drawing. Giclées are available on archival acid free watercolour paper and or canvas. Michael Pape Giclées use pigment longevity inks and have a lifetime warranty. Each limited edition giclée is numbered and hand-signed by the artist. Read More About What A Glicee Is.
Giclée - Regular Print Edition is a regular signed and numbered limited edition print, based off the artist proof.
Giclée - Artist Proof Print Edition is a signed and numbered limited edition print. An Artist Proof is the process of the artist manually matching the original painting colour to the limited edition giclée print colour. For example the pupil of an animal's eye may be slightly darker on one Artist Proof than another. Each Artist Proof is slightly different in colour / different in color. An original if you will. Many artists charge a 20% premium because of this. Artist Proof Print Editions are usually limited to 10% (20 prints) of the Regular Print Edition (200 prints) for example. They are the most sought after limited edition by international art collectors.
Giclée - Conservation / Publisher Proof Print Edition are what charities offer for Fundraising.
Giclée Watercolour Paper Edition
Image size: 16" x 20" (inches)
Edition Size: 1000 Signed & Numbered
100 Artist Proofs
100 Conservation Proofs
100 Publisher Proofs
Comes with Premium Non Glare Glass.
Frame style may vary upon availability. But guarantee it will look awesome!
Unframed option will be shipped to you
in a sturdy cardboard tube.
Framed Giclée Paper
Starting at:


Dedicated to my Mom, Shirley Pape